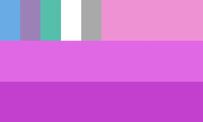 Girlflux (also known as Womanflux, Galflux or Femmeflux) is a subset of genderflux where there are fluctuating intensities of womanhood.
An example of a girlflux person's experience of gender may be a girl 50% of the time, agender 25% percent of the time, and a mix of the two in-between or around those. The intensity can fluctuate over any period of time.
Some subsets of girlflux are: azurgirlflux, paragirlflux, hemigirlflux, demigirlflux, and gxrlflux.
History
Girlflux was coined on August 19th, 2015, by kitsuneshay-blogs on Tumblr.[1] The flag and symbol were created that same day. Also in 2015ish, pride-flags-for-us made an alternative girlflux flag.[2] In October, Kyrin-Lee made a girlflux flag alternative.[3]
On January 19th, 2017, Pride-Flags and nbandproud created an alternative boyflux flag.[4] On October 1st, starrbar made an alternative flag too.[5]
Throughout 2019 in general, whimsy-flags made various themed girlflux flag (such as: angel girlflux flag, demon girlflux flag, glittery girlflux flag, Halloween girlflux flag, clown girlflux flag, VHS girlflux flag, yamikawaii girlflux flag, magical girlflux flag, horror girlflux flag, and camo girlflux flag).
On January 3rd, 2020, tropicus made an alternative flag for girlflux based off of Kyrin-Lee's.[6] Then on the 30th, libragender made a cosmic themed girlflux flag.[7] On April 19th, xe made a color adjusted girlflux flag.[8] On July 23rd, sir-beingmyself made an alternative flag.[9] On August 8th, 2020, techsflags created a lovecore girlflux flag.[10] Then on the 28th, tpmeyou made an alternative girlflux flag.[11] On September 29th, techsflags made a metallic girflux flag.[12]
On January 13th, 2021, isappho made their own alternative girlflux flag.[13] Then on Febuary 14th, pupyzu made a Valentine's Day themed girlflux flag.[14] On March 9th, 2021, Reign of the breadsticcs created alternate flag for girlflux.[15] An alternate girlflux flag by IMakeFlags was created on August 6th, 2021.[16] On the 7th, crystalcoiner made an alternative girlflux flag.[17] Then on the 12th, moztimbs made an alternative girlflux flag.[18] Throughout 2021, techsflags made various girlflux flags with different themes (such as: daybreak girlflux flag, color adjusted girlflux flag, enemies-to-lovers, friends-to-lovers, enemies-to-friends-to-lovers, rivals-to-lovers, and friends-to-enemies-to-lovers).
At some point, an unknown person created an alternative girlflux flag that was uploaded to Gender Wiki on December 3rd, 2020 (by Guns Før Hands).[19]
Symbol
Flags + Details
References
Main
Extra